Karkloof 100 Miler – 2019
So Friday evening at 20h00 I started the most epic, crazy, mind blowing journey I have ever taken on. The goal was to run the Karkloof 100 miler (160km) in 36 hours on the most beautiful but testing trails in the Karkloof area.
I think people often speak about the sacrifices you make to achieve a dream. This dream was shaped during a 30 week program that Dan Willment Fitness created for the AthleteX team. 8 of us wrote our names down at the end of last year to commit to this goal. Unfortunately along the way we lost Bennie Swart who picked up an injury that forced him to withdraw from the event a couple of weeks ago. Even though Ben never started the race, he was part of all of our races. Before the injury he was always the first to put his hand up when I was looking for someone to do a training run with me.
7 of the group started on Friday night but unfortunately Shaun Lamont had to withdraw after the 1st stop. Shaun picked up an injury at the Karkloof training camp a couple of weeks ago. The injury was so severe that most people would have given up on their dream right there, but not Shaun. He trained like a machine on half an ankle for the past 2 months and made the most amazing recovery. Unfortunately his ankle had the last say on Friday night. Shaun is our team motivator and most of us have benefitted hugely from his positive energy and support. Shaun you are part of our success stories.
Pictured left – to – right : Shaun Lamont, Wayne Tessendorf, Wanri Venter, Dan Willement, Robin Devitt, Delwin De Broiz and Jason Pachon.
This race most probably rates as the hardest thing I have ever done. To run a 160kms is hard, but what made this even tougher was that I was awake for 47 hours. I finally completed the race of 33 hours but only 12 of those were in the light and the rest, 21 hours, was in the dark. No street lights, only you, your headlamp and the Karkloof forest. When the sun finally came up it was easier to run but that brought the heat. The temp was around 35 degrees during the day with a warm berg wind not helping our cause.
I was doing well during the first night and most of the morning but at 53kms to go I had numerous blisters developing on my feet. Every step I was in excruciating pain. I had to sacrifice some of my time by slowing down to deal with the pain. I was lucky enough to have Jess Bayman massage my legs at every stop. She drove around and followed the team and was on the finish line waiting for us all at the end. Jess your care and encouragement was 1st class.
The part most people do not see when someone is successful is the team behind that person. Ed Jeffrey, Cameron Conradie and Gerald Camp paced me on the 2nd 80kms of the race. They made sure I ate and drank all the time and stayed positive when I had my lows. Together with Coral Harrison Steenkamp they drove around during my 33 hours to meet me at each stop. I would arrive and they would fill my bottles, give me food, make me tea, help change my shoes and socks and so much more. The best part was having them all with me at the finish line as this achievement belongs to all of them too.
Coral and her husband Riaan has been amazing this year in allowing me to train at night while they prepare supper for me. Coral has picked me up on my low days and has given me sound advice along the way. Also today, she drove me home, washed my clothes, unpacked my car, carried food and drinks to me and even helped clean my blisters. A better friend I cannot ask for, thank you.
Unfortunately our coach, Dan Willment, twisted his ankle early on in the race. He carried on but this brought on a massive knee injury. 30kms in Dan was in trouble. On one leg he made it to the 80km mark. He did the sensible thing to call it a day. Dan, you are an inspiration. You didn't give up, your injury was just too severe. You created the most unbelievable 30 week program for us and challenged us daily but also kept us motivated when the goal felt impossible. In 30 weeks I did a 156 sessions. That is more than 5 sessions a week. Dan pushed all of us further than we thought we were capable of going. His program included a 50km, 75km and 100km training run. We woke up at 2am some days to get use to training at night. He even made us run loops at the 1000 hills park run from 20h00-04h00 the one day. 
Thanks to every single person who took the time to message me before and after the race. As you can see, this achievement does not belong to me only, but rather to every single person that sacrificed some of their time to help and encourage me this past year. Thank you Wendy Selley and Mr Harrison for driving all the way to support me.
A special shout out to the 4 other AthleteX members who completed the race. Jason P-dawg Pachon, Wayne Tessendorf, Delwin De Broize and Robin Bruno Devitt. You showed real fight, commitment and guts to complete this. Also to Shireen Kristin Swart and Adrienne Osberg who completed the 50 miler. You are all an inspiration. Thank you to every single pacer, AthleteX team member and friend who supported us all the way. You are the real heros of the day.
JASON PACHON
KK100 – 22 Hours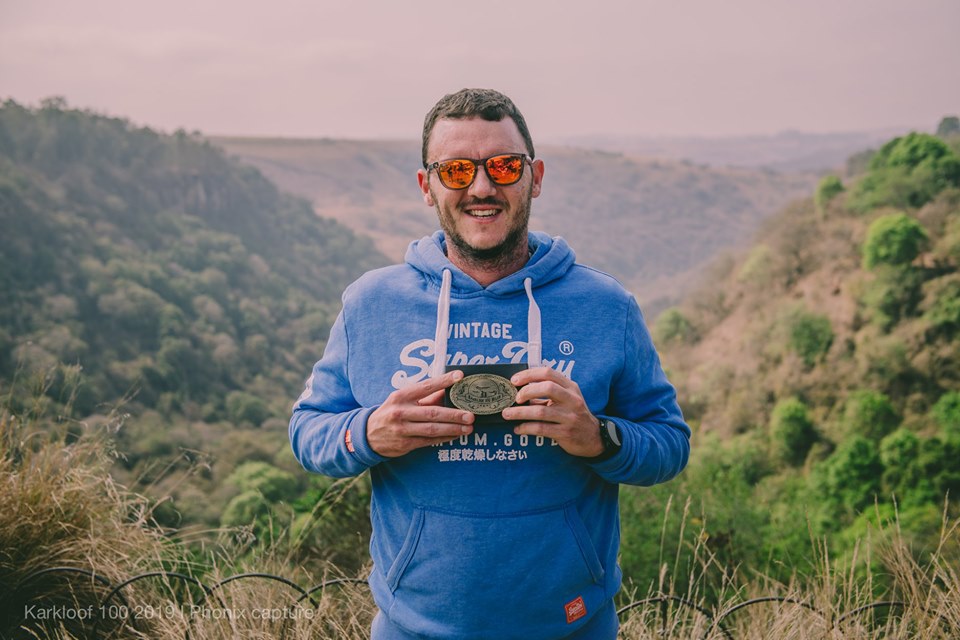 ROBIN DEVITT
KK100 – 22 Hours
WANRI VENTER
KK100 – 22 Hours
DELWIN DE BROIZ
KK100 – 22 Hours
WAYNE TESSENDORF
KK100 – 22 Hours