Expedition Africa Drakensberg 120km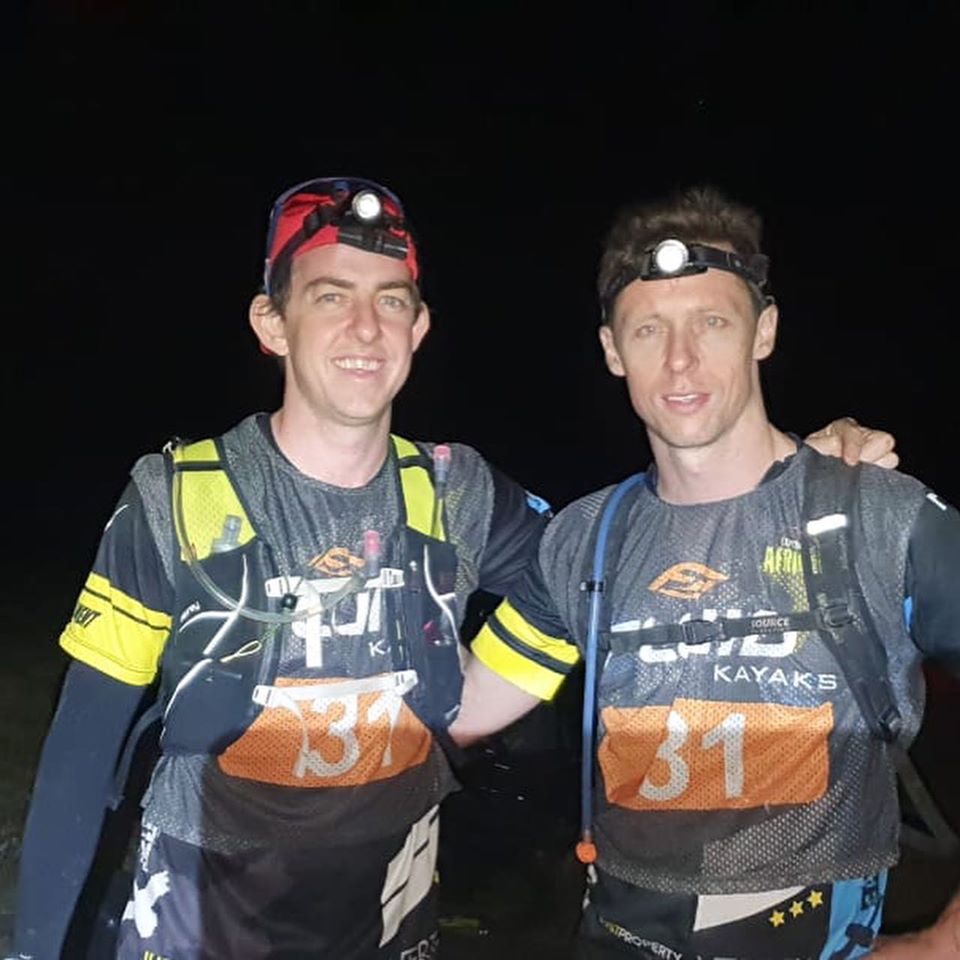 I suggest searching for 'Adventure Racing' on YouTube before continuing… possibly something Allister Meaker and I should have considered before committing to the Expedition Africa Drakensberg 120km adventure race on the 2nd of November 2019.
The topic of conversation between Hillcrest & Alpine Heath the afternoon before the race had largely revolved around us 'hoping' that the event would live up to it's name and we wouldn't be disappointed by something too easy. Brendon Ashwell and Wayne Tessendorf (fellow Athlete X crew members) were volunteering and were exposed to parts of the route in advance. A message from Brendon read "this is going to be a proper race". Al and I interpreted this as a positive of course, until late on Saturday night, 18 or so hours into the race when we were faced with a 700 meter ascent to checkpoint 14. We then realised what Brendon actually meant by a 'proper race'.
Having attended the race briefing and packed our resupply boxes for the transitions we faced our biggest challenge, orienteering. Yes, we knew there would be some form of self-navigation (without GPS) but the reality of what this meant only hit home when we were on the edge of the lower berg, some 200 meters above a sheer rock face with nowhere to go. Unfortunately Strava only served to confirm this in what looks like two people circumnavigating a giant carrot! Needless to say, some 2 hours later we were back on track, for a minute or two. Having made it to the first transition after what felt like completing the Mount Aux Sources challenge, it was time for the first MTB leg. Of course, I was faced with drivetrain issues no less than 10 meters from the transition after my derailleur had once again taken an unexpected beating when the wind blew my bike over. A few quick adjustments and albeit petrified to shift at all for fear of chain-suck, I was at least able to sit in granny gear for the climbs to come.
I must highlight that shortly before reaching transition 1 it became evident that I had grossly misinterpreted a flowchart we'd received from the race director earlier in the week. I should have realised when Al was packing Woolies chicken frikkadels in every available crevice (he'd regret this in the first leg by the way) but I was so focussed on my navigation skills, that I incorrectly assumed a knife/fork symbol suggested we'd have access to proper food. For anyone that's competed over 5 hours, you'll appreciate FarBars can only go so 'far'. And apart from adequate hydration and a few sugar-filled, liquid sachets I was bound for a 22 hour event with no real food provisions whatsoever. Fortunately Al had managed to squeeze two Bovril rolls between the frikkadels which offered me some sustenance.
The MTB leg to the zipline checkpoint at All Out Adventures was magnificent and included some of the best single-track trails in the area.  It's probably worth mentioning 'Al the Gazelle' at this stage. Whether he's running barefoot down the side of a volcano or floating above his hardtail MTB like a flamingo, he only has one speed. Fast! At one stage in the first leg after already climbing 1000 meters in 3.5 kilometers, Al was in his element barrelling through the countryside when it dawned on us that we were very close to the lead pack. I'd like nothing more than to say we maintained this pace but it was short-lived when we made the decision to deviate from the general direction and found ourselves teetering over the rockface previously mentioned.
I was very happy for Al to cross the zipline checkpoint off for us. Primarily because the Boks had just crushed England in the RWC, a bike mechanic was on-hand, the restaurant was open and I'd found R100 in my survival pack. Chicken mayo! Having left the comfort of All Out Adventures, and not 3 minutes later we were quite literally at a crossroad on the next MTB leg. It was at this stage we realised a compass bearing was about as a useful as warm frikkadels on an adventure race. It simply became impossible for us to navigate properly without the necessary orienteering skills and I'm not convinced we'd be home now had we not used a follow the leader tactic. Yes, we may not have powered through the leg liked we'd hoped given that we were following a slower bunch but there's no doubt it saved us energy & time in the greater scheme.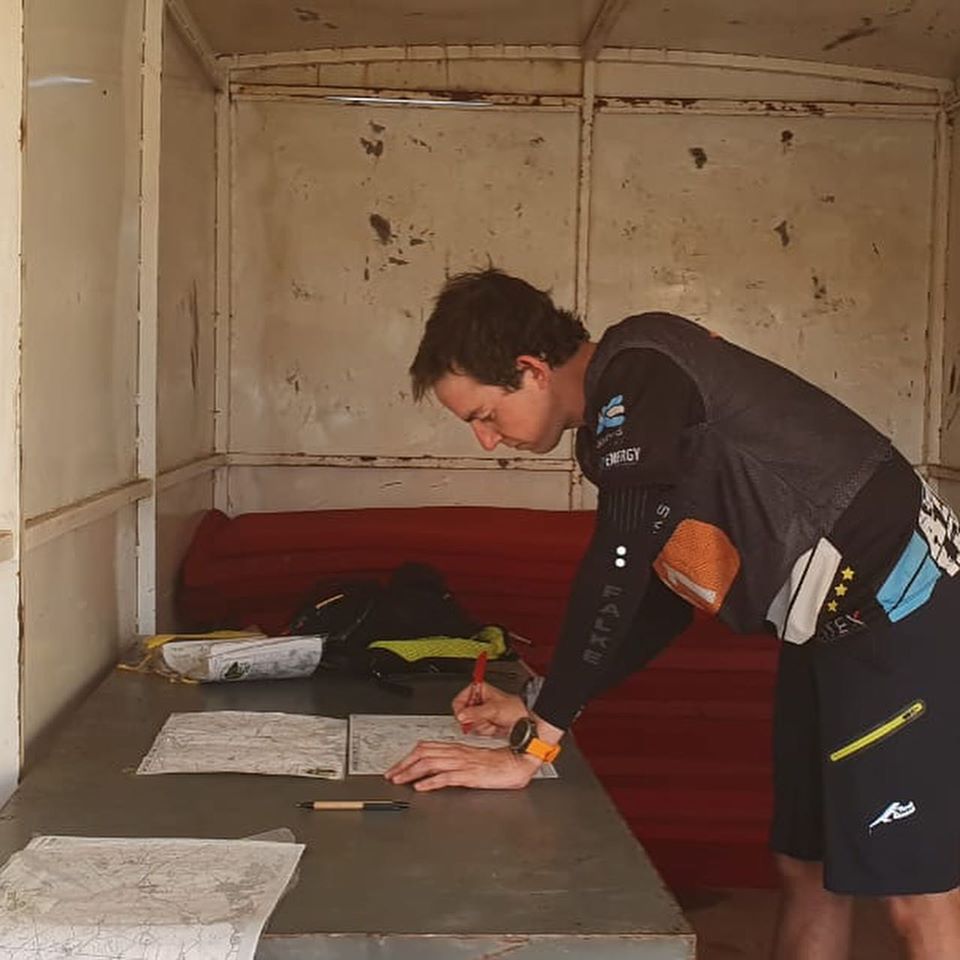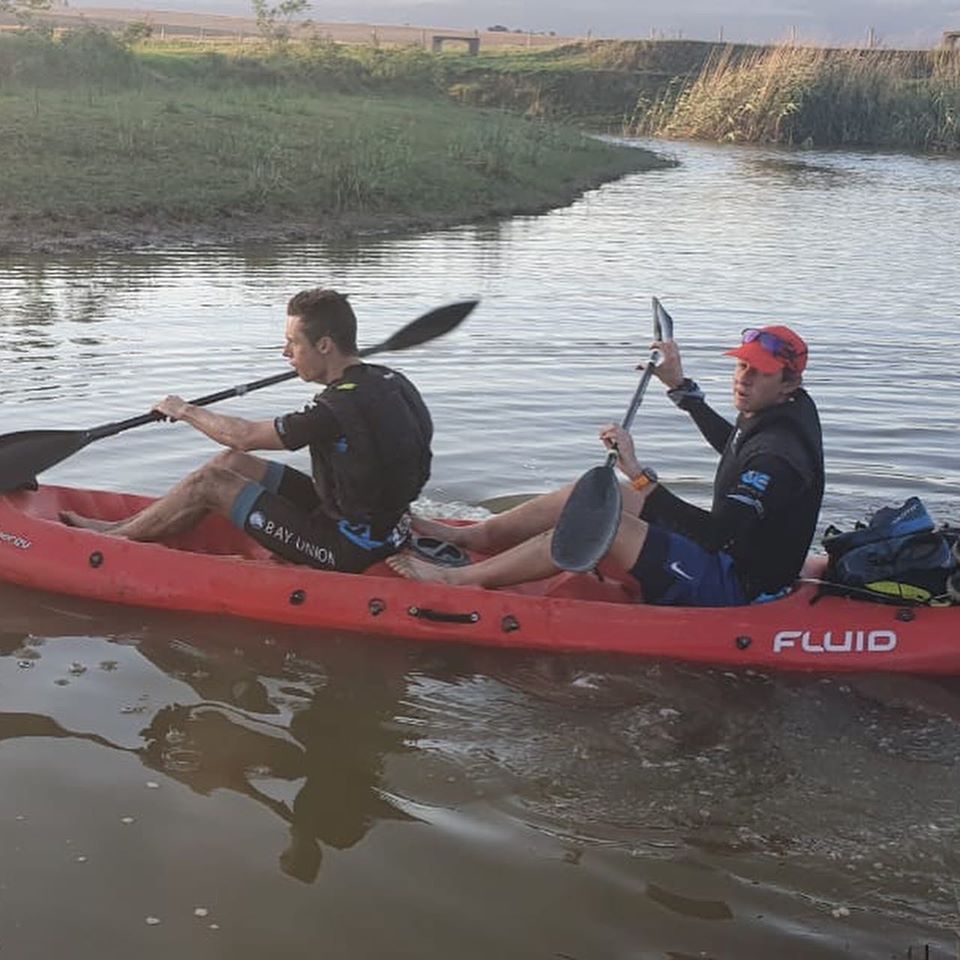 Arriving at the kayak section around 16h00 we were greeted by Brendon and Wayne who were running an unsupported volunteering race of their own. After a quick remapping Al and I were off across Woodstock Dam in what can only be described as a floating bathtub. Despite every stroke variation under the sun, we realised paddling that kayak in a straight line required immense concentration and patience. Both characteristics we had immeasurable amounts of given the 12+ hours we'd been going. As a perfect sunset, turned into a starry night, Al and I, all alone having dropped the group we were following after the MTB leg, were faced with the grave realisation that we would have to find the next transition in the dark. Not having any real navigational experience it quickly became evident that any nearby light source may in fact be the transition. Fortunately wisdom prevailed and before paddling off to what we now know was a township some 5 kilometers in the wrong direction, we donned a headlight and checked the map.
The next few hours were characterised by mild starvation, moments of frustration and a fortunate turn of events which led to us following a team with exceptional orienteering skills. In fact, at one stage I asked the navigator if he was using a GPS after he told us he knew a shortcut through a field which turned out to be a good 2 kilometers shorter than the route we'd arrived on. A classic case of 'experience pays'. We did eventually split from Team Galileo with the intention of finding the last two checkpoints and final transition as quickly as possible. This materialised for at least two hours before we were once again backtracking, stumbled across Team Galileo and used their sense of direction to reaffirm our own.
After 22 hours, at 04h30 on Sunday morning, having found all checkpoints, we rolled across the finish line.
It really is an experience I will never forget and I can't wait for the next one! I am grateful to my family, my teammate and source of nutrition Al, Dan and the entire Athlete X team for the endless support. Thank you!